What Will Summer Camp Look Like This Year?
We, at Mobicip, wanted to share a few thoughts to help you safely plan your child's summer camp this year. Yes, it is going to be different; but our experts have summed up this year's camp rules to help you stay a step ahead and make an informed choice. Here are some ground rules to follow before sending your children to in-person summer camps.
Check the COVID spread in your area and the area in which the camp is being conducted.

Consider your child's pre-existing condition that may be exacerbated, if infected. Talk to your pediatrician about the pros and cons of sending the child to camp. 

Be well informed of the protocols that will be followed in the camp and ensure that you are completely satisfied before committing.
If you have decided it is safe to move forward with in person day camps, our experts have categorized the CDC guidelines into policies, facilities and awareness for your convenience. We recommend you review these with the camp organizers before finalizing a camp for your child.
Policies:
Vaccinated or Covid-free Staff: All staff and personnel at  the camp must either be fully vaccinated or tested negative for covid at regular intervals to ensure no exposure to asymptomatic persons.
Use of Personal Protective Equipment: While many countries are relaxing face mask requirements among vaccinated people, it does not hurt to be cautious. Children in camps must be encouraged to use face masks and maintain personal hygiene (frequent hand washing and social distancing). They must be reminded periodically to maintain this discipline. After all, camp is not only about fun, but also to instill in our children some life lessons and values such as personal discipline, cooperation, and compassion towards fellow human beings. 
Smaller Groups (Pods): Camps shall divide the participants into small pods with dedicated guides and monitors to keep interactions with new individuals to a minimum, without isolating the children. A key part of summer camps are the friendships the kids make, and this can still happen in smaller groups Social distancing within and between groups must also be ensured; as the CDC guidelines go:
At least 3 feet between all campers within a cohort

At least 6 feet between all campers outside of their cohort

At least 6 feet while eating and drinking, including among people within the same pod

At least 6 feet between campers and staff

At least 6 feet between staff
Home-cooked Meals: Day-camps require participants to bring lunch and snacks from home rather than have large kitchens and cafeterias, for common mealtimes. While exchanging/sharing lunch boxes is common in normal times, camp organizers must ensure that this does not happen in these pandemic times. It is ok to be strict for the sake of safety; "not sharing" does not mean "not caring", in fact, it means quite the opposite  – that we care for the wellbeing of our friends and peers.
Sufficient Staff: Camps must ensure that staff/personnel can stay away without fear of negative repercussions; so that they can stay away and isolate in case of illness. 
Emotional Caregivers: Camps must ensure to have trained camp staff to detect and handle cases of anxiety and emotional distress among camp attendees and staff.
Clearly defined rules for camp attendees: Camp organizers should have rules in place ahead of the camp start dates, for how the camp will be conducted and for how emergency and exception situations will be handled– 
Clearly defined safety and health checks for all camp staff and attendees at the start and end of the day.

Clearly defined and posted rules for cleaning and disinfecting of all areas of the camp.

Rules for when a child/staff falls sick or is suspected to have COVID, including isolation requirements.

Clear guidelines for the safe removal of children and staff who fail to follow camp rules and procedures and pose a risk to the camp community.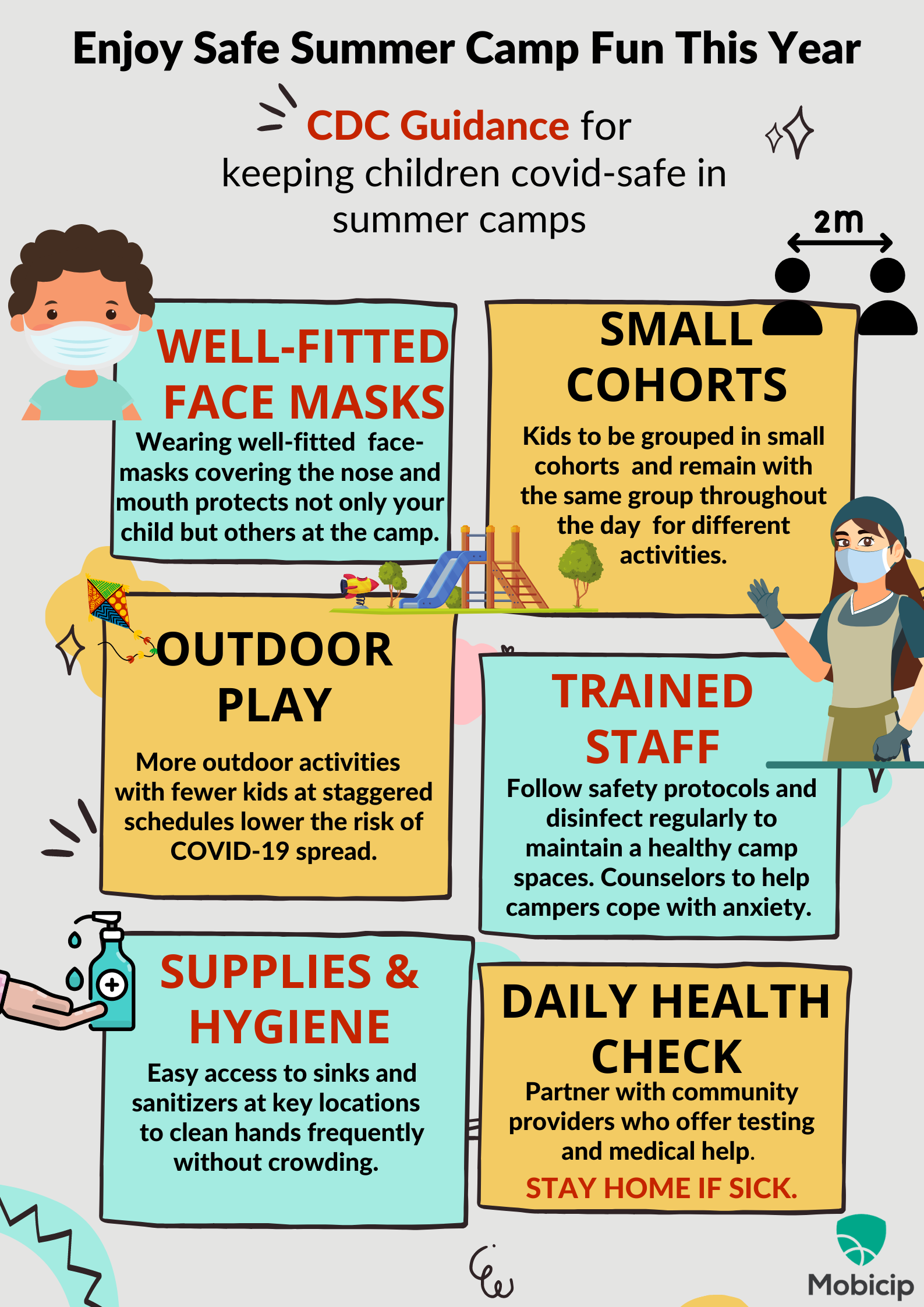 Facilities:
Camp coordinators shall plan resources and facilities for outdoor activities rather than indoors; Being outdoors will ensure flow of fresh air and lower the risk of spread of COVID-19. 

Camp facilities shall ensure efficient HVAC systems should some camp activities be conducted indoors.

Ensuring good quality water for participants for both drinking and other uses. This, while being important for camps even in normal times assumes even more importance in pandemic times.

Camp management should ensure:

An adequate supply of masks, gloves, hand sanitizers, non-touch dispensers and trash cans, soaps, paper towels, cleaning supplies,  and other such materials that the organizers deem necessary to safely hold camps in pandemic times.

Enough supplies such as non-contact temperature meters, oximeters etc., for daily monitoring of the students.

Sufficient space to hold the belongings of the participants, distanced from each other in named cubbies, containers etc., 

Sufficient number of personnel/staff to oversee and perform periodic cleaning and disinfection of the spaces and articles used by camp participants.  

Sufficient personnel/staff to keep a watch on the children for transgressions such as not social distancing, not wearing masks, not washing hands, and sharing food.

Staff/personnel and vehicles for emergency contact procedures to take children back to their homes in case of emergencies or contingencies.

Quarantine areas and protocols must be planned for possible outbreaks, and it is important to have a healthcare professional in attendance or on call.
Awareness:
Camp shall ensure the education of staff, families, and participants on  
Protocols to be followed during camp
Right way to wear a mask, wash hands and social distance. For example, not many people know that masks cannot be used on children under 2 years of age, those who have difficulty breathing and people who are unconscious.
Dealing with the cleaning and disposal of  personal protective gear  – how to wash reusable masks, how to properly discard single-use masks and gloves, etc.
Useful Links:
If both camp organizers and participants are not comfortable about in-person camps just yet, there are always online camps in which children may participate from the safety of their homes.  But this carries with it the concerns of online dangers, where apps like Mobicip can help protect the child. These apps can be installed by the camp organizers to protect their participants, and by families to protect their children attending camps online. Mobicip restricts online access to dangerous sites, sets time limits and helps parents monitor the online activities of their children.