What is TextNow, and is it safe for kids?
TextNow is one of the most popular apps for free calling and texting in North America. With over 200 million downloads and 20 million active users, TextNow has become a favorite choice for many who want to stay connected without paying a fortune.
It works on any Android or iOS device, even if you don't have a phone plan or a SIM card. You pick your area code and get a free phone number that you use to call or text other TextNow users. You also enjoy unlimited texts and calls, affordable international calls, and flexible data plans.
TextNow sounds like a great app for kids who want to stay connected with their friends and family without spending a lot of money. But is it really safe for them? What are the benefits and risks of using TextNow for kids? How can parents protect their kids from online dangers on TextNow? In this article, we will answer these questions and more.
What are the benefits and risks of using TextNow for kids?
TextNow is a great app for kids who want to communicate with their friends and family for free. However, like any other app that involves online interactions, TextNow also has some potential benefits and risks that parents and kids should be aware of. Here are some of them:
Benefits:
TextNow allows kids to use their old devices or tablets to make calls and texts without a phone plan or a SIM card. This can save them money and hassle.

TextNow gives a free phone number that they can use to verify their accounts on other apps like WhatsApp, Snapchat, or Instagram. This feature gives them more options and flexibility.

TextNow has some safety features for blocking unwanted calls and texts, reporting abusive users, and deleting messages/call logs. This can help them avoid spam and harassment
Risks:
TextNow requires users to provide their email address and date of birth to create an account. This can expose kids to online risks such as bullying, predatory attacks, or inappropriate contact from strangers, and adults to risks such as phishing, identity theft, or fraud.

TextNow does not have any parental controls or monitoring tools. Parents cannot see who their kids are talking to or what they say on TextNow. This can make it difficult for them to protect their kids from online dangers or guide them on responsible online behavior.

There is no age verification or content moderation on TextNow, where kids may encounter inappropriate or harmful content such as violence, pornography, cyberbullying, grooming, or sexting.
What is the right age to use TextNow?
TextNow does not have a specific age requirement to use the app. However, according to the Children's Online Privacy Protection Act (COPPA), users under 13 years old need parental consent to create an account and share their personal information online. Therefore, parents should be caution and responsible when allowing their kids to use TextNow.
How do parents protect their kids from online dangers on TextNow?
To keep kids safe on TextNow, parents should educate their children about the risks and benefits of using the app. Setting up some rules and boundaries for using TextNow app can also help protect their kids from online dangers, such as:
Time and frequency limits: Deciding how much time the child can spend on TextNow. Setting a schedule or a curfew for using the TextNow app.

Secure password: Creating a strong and unique password for the TextNow account. Reminding them not to share their password with anyone or use it for other accounts.

Privacy protection: Teaching the kids to avoid sharing their real name, address, phone number, school name, or other personal information with strangers or untrusted people on TextNow. Warning them about the risks of sending photos, videos, or voice messages that could expose their identity or location.

Reporting and blocking: Encouraging the kids to report any users who are rude, mean, threatening, or inappropriate on TextNow. Instructing them to block or delete any unwanted calls or texts.

Communication and support: Maintaining open and honest communication with the kids about their online experiences on TextNow. Listening to their opinions and offering support and guidance.
How does Mobicip help?
Mobicip is a smart parental control app that helps parents monitor and manage their kids' online activities on any device. With Mobicip, parents can protect their kids from online dangers on TextNow using these features: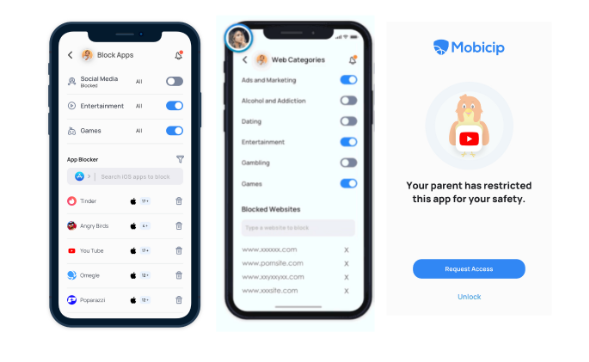 App blocker: This feature allows parents to block TextNow or any other app using Mobicip. This way, their kids or anyone else cannot access or delete the blocked app without their permission. This gives them more control and security over their kids' device usage.

Screen time: This feature enables parents to set daily or weekly limits for using social media apps, including TextNow. This helps kids to balance their online and offline activities and prevent addiction and distraction.

Content filtering: This feature leverages Mobicip's advanced content filtering to block adult, violent, or offensive content on TextNow. Parents can customize the filter settings according to their kids' age and maturity level.
Our Final Thoughts:
TextNow can be a fun and free app for kids, but not without risks and challenges. Parents use a monitoring app like Mobicip to manage their kids' use of apps like TextNow and protect them from online dangers. Mobicip is the best partner for parents who want to keep their kids safe online. Try Mobicip and its premium features for free today.