Managing Passwords: Best Practices for Secure Password Storage on iPhone or iPad
Every day, nearly 100 passwords are stolen in a second, i.e., about 8 million passwords, and it all happens within seconds. That's right; within a single heartbeat, countless online lives are left vulnerable. Passwords are the guardians of your digital realm, protecting your bank accounts, personal photos, and cherished memories.
Weak passwords can open the door to a world of trouble. Using the same password for many accounts is like having one key for your home, office, and safe. Once someone has that key, they can access everything. Using easy-to-guess passwords, like your name or birthday, is like leaving a spare key under your doormat, making it easy for strangers to get in.
Here are some alarming statistics about password security:
80% of hacking breaches in 2022 were linked to password-related issues.
54% of employees reuse passwords across their work and personal accounts, creating a tangled web of vulnerability.
23 million accounts are still secured with the "123456" password, underscoring the prevalence of easily guessable passwords.
Nearly 52% of Americans reuse passwords across multiple, though not all, accounts, increasing their risk of security breaches.
Only 35% of Americans don't reuse passwords, indicating a significant majority risk security breaches due to reused passwords.
A staggering 59% of Americans use their own name or birthday in their passwords, creating easily exploitable vulnerabilities.
Securing your personal data is extremely important in today's tech-driven world. The Internet is where you connect with friends, shop for cool stuff, do your banking, and basically live your life. But it's also where sneaky cyber-criminals lurk in to snatch your personal data. 
What is a password manager, and why do you need one? 
You might wonder, "What are they, and why should I care?" Well, think of password managers as your digital bouncers. They're like the tough guys at the door of a club, making sure only the right folks get in. Passwords are the keys to our digital lives, and the average person has numerous accounts, each requiring a password.
Password managers are tools designed to create, store and manage strong and unique passwords for all your accounts. They provide a secure and convenient way to access your credentials, making it easier to stay safe online. Getting started with a password manager is easy. It's all about making your digital life easier!
Choose a website or an app and sign up. When you sign up for a new website, your password manager prompts you to save your password. Once saved, it auto-fills your login info the next time you visit, saving you the trouble of remembering and typing long and complex passwords. Likewise, you can even choose to turn off this feature for specific sites.
Password managers offer several benefits:
· Strong Password Generation: They can generate complex and unique passwords for each account, reducing the risk of breaches due to weak passwords.
· Secure Storage: Passwords are stored in an encrypted vault, ensuring they are safe from unauthorised access.
· Auto-Fill and Auto-Login: They can automatically fill in login information for websites and apps, saving you time.
· Password Sync: Many password managers sync your credentials across devices, making them accessible from your iPhone, iPad, and other platforms.
Thanks to the password manager, you can say goodbye to using 'password123' for everything. Now that we understand the importance of password managers let's explore how to use iCloud Keychain, Apple's built-in password manager.
How to use iCloud Keychain to store and sync your passwords on iPhone or iPad
What is the iCloud Keychain? 
iCloud Keychain is Apple's native password management solution. It securely stores your passwords, credit card information, and Wi-Fi network credentials across your Apple devices. iCloud Keychain also integrates with Safari, making filling in passwords and credit card details easy when browsing the web.
How to set up iCloud Keychain on your iPhone or iPad 
Enabling iCloud Keychain is a straightforward process:
· Open Settings on your iPhone or iPad
· Tap on your Apple ID
· Scroll down and select iCloud
· Find and select Passwords and Keychain
· Turn on Sync this iPhone
How to use iCloud Keychain to store and autofill your passwords on websites and apps 
Once iCloud Keychain is set up, it will automatically store and autofill your passwords when you visit websites or use apps.                                                      
Here's how it works:
· To save a password, visit a website or open an app where you need to log in
· Fill in your username and password fields
· After you log in successfully, iCloud Keychain will prompt you to save your password.
· Tap Save Password, and iCloud Keychain will securely store the password.
· When revisiting the website or app, iCloud Keychain will suggest your saved password. Tap the suggestion to autofill your login details.
If you have multiple accounts for the same website, iCloud Keychain shows you a list of options. Choose one from the list.
When creating a new account, iCloud Keychain can generate a strong, unique password for you. Simply tap to use the generated password.
How to view and manage your passwords in iCloud Keychain 
To view, edit, delete or add passwords in iCloud Keychain:
· Open Settings
· Scroll down to Passwords
· Authenticate using passcode, Face ID or Touch ID if required
· Here, you can see a list of your saved passwords 
· To view a specific password, tap on the website or app.
· You can edit, delete or add new passwords by tapping the respective options.
iCloud Keychain simplifies saving and auto-filling passwords, making your digital life more secure and convenient. Now, let's explore another essential feature: Password Security Recommendations.
How to use Password Security Recommendations to identify weak or vulnerable passwords on iPhone or iPad 
What is Password Security Recommendations?
Password Security Recommendations is a built-in feature provided on your iPhone or iPad. It helps assess the strength and security of your passwords and offers suggestions to enhance your online security. It enables you to identify and rectify weak or vulnerable passwords across your accounts.
How to Access Password Security Recommendations
Accessing Password Security Recommendations is simple:
· Open Settings on your iPhone or iPad
· Scroll down to Passwords
· Tap Security Recommendations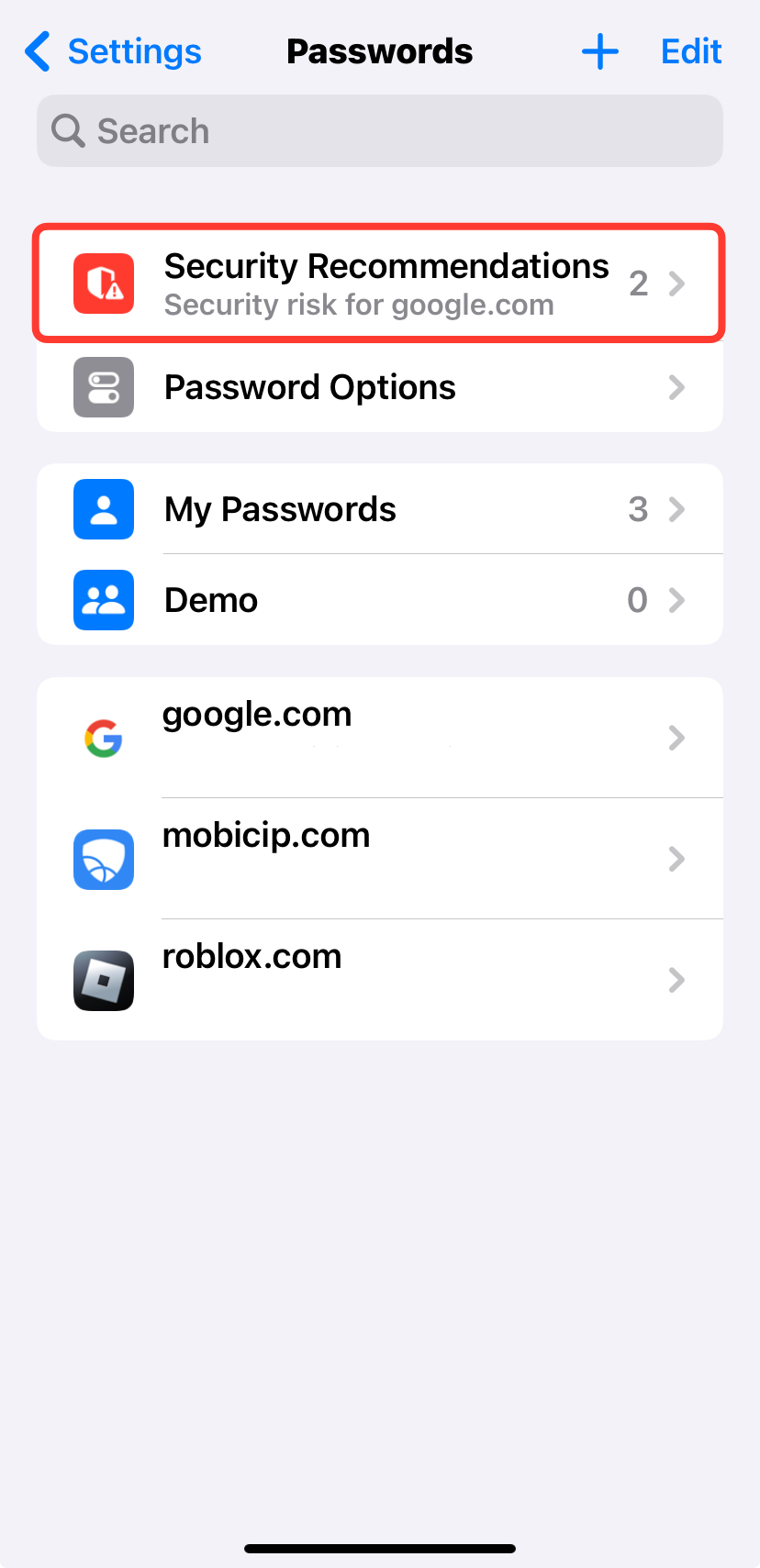 · You'll see a list of suggestions and warnings related to your passwords.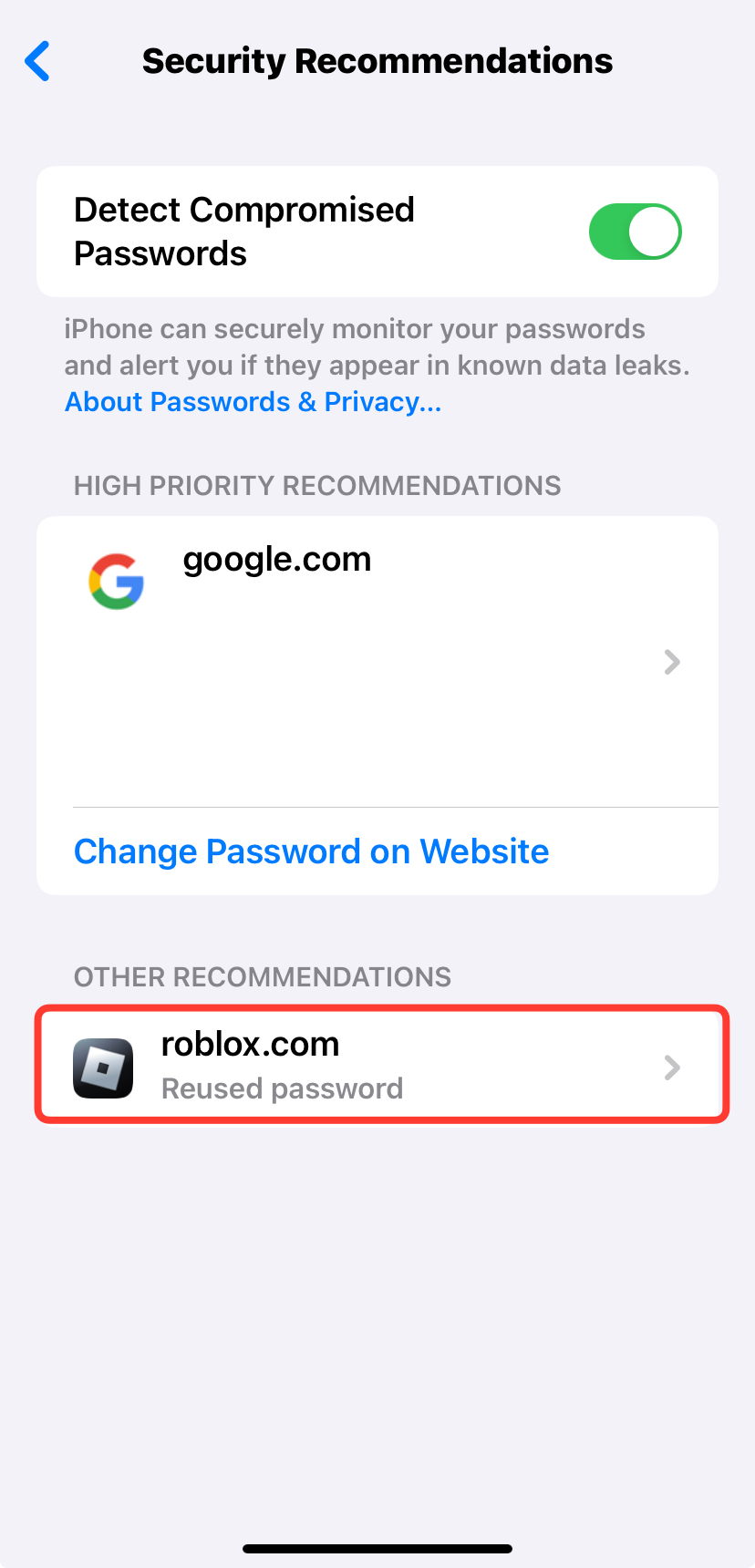 · Password Security Recommendations will grade your saved passwords as Weak, Repeated, Reused, or Compromised to each one.
How to Follow Password Security Recommendations
To improve your password security based on the recommendations:
· Follow the prompts: iCloud Keychain will guide you through the process, including changing passwords when necessary.
· Use the suggested strong passwords: When prompted, accept the suggested strong passwords to replace weaker ones.
· Regularly check for recommendations: Occasionally, review the recommendations to ensure your accounts remain secure.
Next, let's explore the feature of detecting compromised passwords.
How to use detection of compromised passwords to protect your accounts from hackers on iPhone or iPad 
What is the Detection of Compromised Passwords?
Detection of compromised passwords is a security feature offered by Apple that checks if any of your passwords have been exposed to data breaches. This feature is part of Apple's commitment to enhancing online security.
How to Enable Detection of Compromised Passwords
To enable the detection of compromised passwords: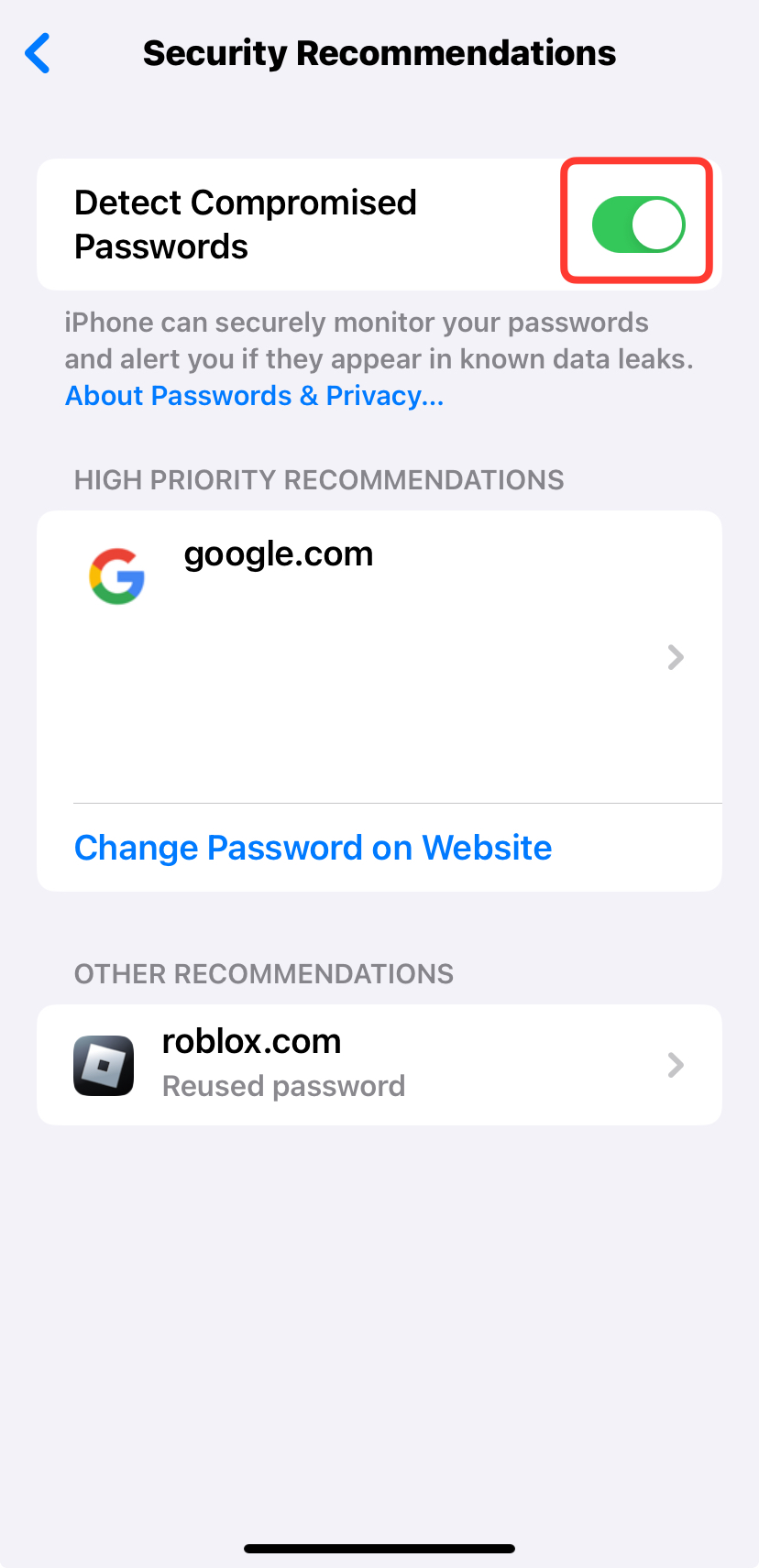 · Open Settings on your iPhone or iPad
· Scroll down to Passwords
· Tap Security Recommendations
· Turn on Detect Compromised Passwords
How to Use Detection of Compromised Passwords
Once enabled, the feature will automatically monitor your saved passwords for any breaches. If a breach is detected, you will receive a notification to change the password for the affected account. This is a proactive measure to protect your accounts from potential hackers who might have access to your compromised credentials.
How to use third-party password managers on iPhone or iPad 
Using a third-party password manager on your iPhone or iPad is a smart way to enhance your online security. Here's how to do it:
Install a password manager app
Set up the app 
Create a master password
Import or Add passwords
Generate strong passwords
Enable Auto-Fill for login details
Use Biometric Authentication for added security
Sync passwords across devices
Regularly Update and Audit Passwords
Conclusion 
In conclusion, safeguarding your personal data is vital in today's digital world. Using iCloud Keychain for password management, taking advantage of features like Password Security Recommendations, and detecting compromised passwords can significantly improve your online security. Additionally, using a third-party password manager can provide additional layers of protection.
The alarming statistics we've discussed remind us that the risks of weak passwords and password reuse are real. Making your passwords strong and unique ensures your online life remains secure. In a world full of digital threats, these practices provide peace of mind and protect your online identity. So, manage your passwords wisely, and your digital life will thrive safely and securely.
Install Mobicip and Enjoy Peace of Mind
Mobicip is a parental control app thousands of parents and caregivers use to keep their children protected online. With Mobicip, you can effectively manage screen addiction, filter inappropriate content, block harmful apps and websites, get instantly notified for suspicious online activities and collaborate with your children and parenting partner. Below are some of the top features that make it so popular:
Multi-Device Support
App Blocker
Daily Screen Time Limits
Activity Schedules
Social Media Monitor
YouTube Monitor
Family Locator
App Limits
Website Blocker
Today you can start protecting your child from online data theft and scams by securing their online environment. Start your 7 day free trial today!