Overview
This article shows you how to setup Mobicip on a parent's iOS device - an iPhone or an iPad.
Download Mobicip from the App Store, select Parent as the primary user, and login using your Mobicip account.
Before You Begin
Using the Mobicip app in the Parent mode, you can
purchase a Mobicip subscription
add your children and customize their filtering settings
access your children's activity including the overall time spent on social media, most watched videos and websites, etc.
set and customize screentime limits, allow/block apps, websites, website categories, keywords and phrases and get notifications for each of your children (after installing Mobicip on your child's device)
Please note that
Mobicip Parental Controls work by installing the Mobicip app in Child mode on your Child's device. Monitoring won't start until the Mobicip MDM profile is installed on your child's device. To enable App Management, please set up your child's device in the "Supervise" mode.
You need to have access to your children's device to setup Mobicip in Child mode. Please ensure adding each of your children separately so you can monitor their activities accurately.
All capabilities available on the parent app is also available in the customer Dashboard when you login on mobicip.com
Step-by-Step Instructions
Download Mobicip from App Store on your iPhone or iPad and open the app to select Parent as the primary user.
Login with your Mobicip account.
Select 'Add Children' in the following window to create a persona for each of your children. You will need to setup atleast one child profile at a minimum.
Add Child, choose a name, set the age and Mobicip will automatically configure age-appropriate restrictions. Learn more
You may customize the restrictions now or save and revisit this later.
To add another child, select My Mobicip > My Family from the Menu, tap '+' at the bottom.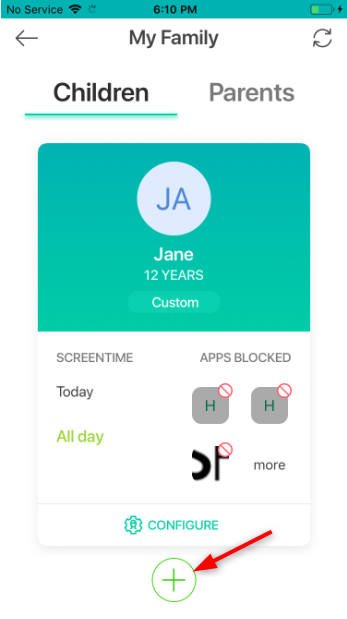 Next step: Install and activate Mobicip in Child mode on each family device you wish to protect. Learn more
To customize the restrictions for each child, look up the tutorials below.
ScreenTime - Learn More
Social Apps - Learn More
Videos - Learn More
Apps - Learn More
Web Categories - Learn More
Websites - Learn More
Phrases - Learn More
Networks - Learn More